'Business in Africa' was the title of a conference I attended in UCD a few months ago. Writing from Tanzania's largest city, the bustling Dar-es-Salaam, I can't help but feel that I should have scribbled down a few more notes…
I entered final year last September completely ignorant of Project Seed, ISCG's effort to establish self-sustaining peer consulting groups around the globe. In the months since, I was captured by the initiative but it is only this week, midway through our first workshop with bright, passionate and ambitious local students that I really understood what an extraordinary initiative it is.
For those of you as unaware as I so recently was, Project Seed is about establishing a fully-functioning and independent sister organisation in another country. As part of this, several ISCG members travel to the country in question for a month to deliver workshops and offer whatever help we can. This summer, we have again returned to Tanzania, where we are looking to build upon lessons learnt from last year's experience.
First and foremost, our main goal is to ensure that the Tanzanian Student Consulting Group (TSCG) thrives in our absence. This will involve making sure that the proper framework and support systems are put in place. At the same time, we look forward to sharing the benefits of student consulting with new TSCG members.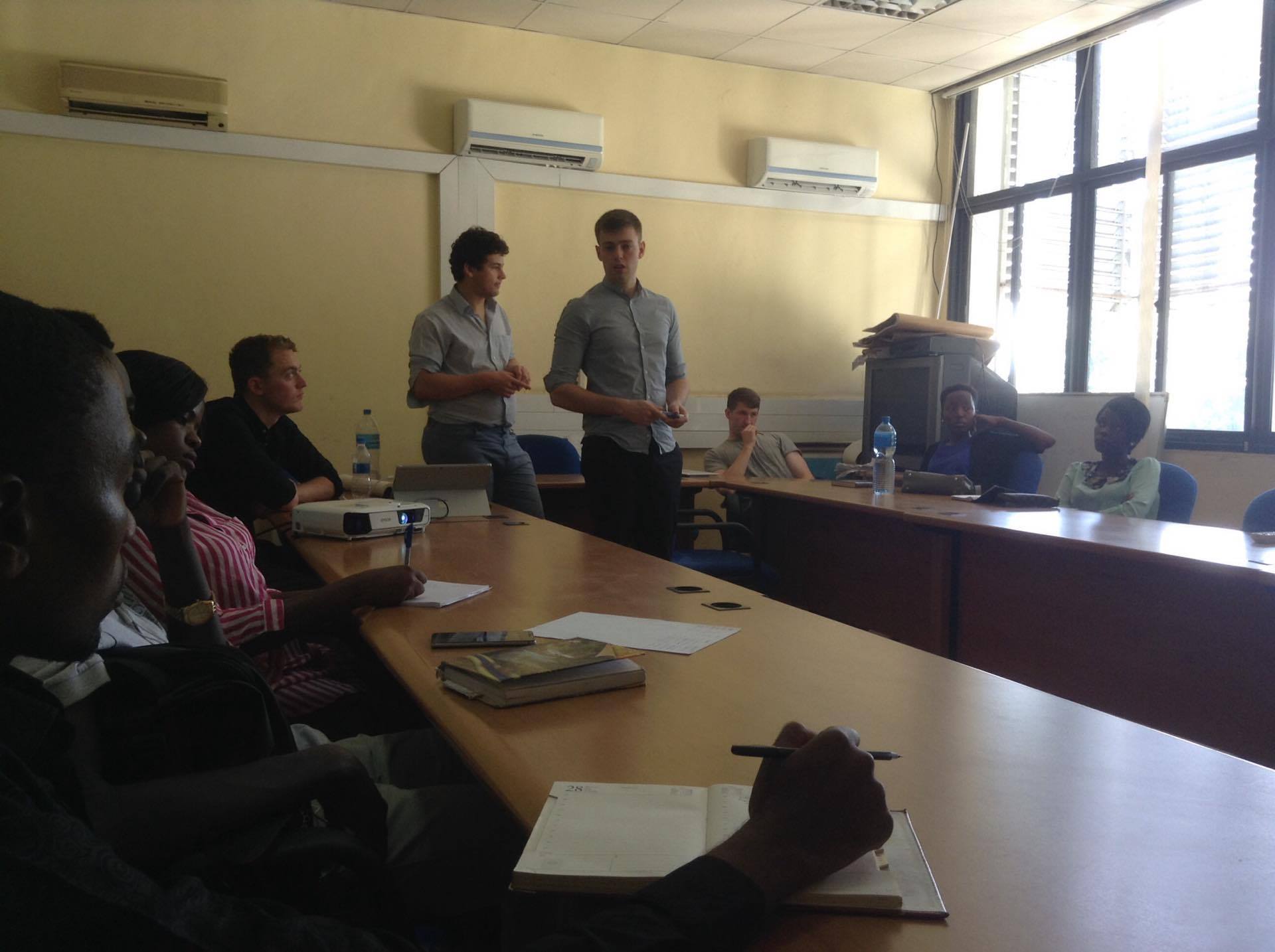 To do this, we aim to replicate what we do in ISCG, teaching skills and delivering client projects. Thus, we are providing training through workshops to our fellow students in the University of Dar-es-Salaam (UDBS). This training encompasses many of the skills necessary to tackle problems that businesses and non-profits face, having been built upon our past client project experiences in Ireland. Secondly, we want to complete two projects in conjunction with our Tanzanian colleagues and friends. Our hope is that our work will be driven by the training that we give over the next three weeks, giving the TSCG team the opportunity to utilise these learnings in a practical setting.
Organising and undertaking this trip has not been without its fair share of difficulties. The lack of electricity in our accommodation from time to time can certainly bring home how lucky we are in Ireland. Despite the difficulties, we are incredibly encouraged by the motivation of our Tanzanian friends as well as the help that has been offered to us. We were certainly lucky to get in touch with Alex Howe, who runs a consulting company over here. Alex organised for us to meet with two different clients, which will form the majority of our practical work with the TSCG members.
During the first week, we have also held our first two workshops with the local Tanzanian team. Whilst the client work will always be important, teaching TSCG members will undoubtedly be our first priority. The methodologies which we are trying to teach are not complicated. They are built upon our past experiences in ISCG, which have taught us ways to structure and sub-divide more difficult problems. In this way, we aim to break each problem down into smaller pieces from which we can better solve the underlying issue. As mentioned before, the aim is to treat the client work as a way of practically applying some of the more theoretical components of the training.
We feel that we have made fantastic progress over the first stint of our trip although we are fully aware of the magnitude of work remaining. On a personal note, experiencing Dar in this way has been incredible. From the manic hustle-and-bustle of the city centre to the polepole atmosphere in the outer suburbs, it really does seem to have it all. Needless to say, there is a lot more to see and a lot more to do.